PCB-UX-232M
UEXT Adapter RS-232 DB-9M (DTE), Unpopulated 2 Sided PCB
Features:
RS-232 to logic level adapter with DB9M connector (DTE style) and power LED.
UEXT standard 2x5 header pinout for interchangeable serial interface modules.
All thru-hole construction allows for easy assembly.
A DIP IC socket option allows easy IC replacement.
Double-sided, FR4 glass-epoxy PCB, 1oz/ft2 copper, anti-tarnish coating. Soldermask & silkscreen. Lead free and RoHS compatible.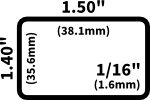 Description:
The PCB-UX-232M is a bare PCB to build the UX-232M logic-level to RS-232 adapter. This is an unpopulated board and no parts are included. The BOM (bill of materials) and schematic diagram are available at http://www.busboard.us/products/UX-232M/ to construct the circuit. Soldering is required and prior experience with electronic assembly is recommended. A PCB soldermask helps prevent solder bridges on tracks and a silkscreen legend provides part locations.
The UX-232M uses the Olimex style UEXT 2x5 header for peripheral expansion boards. UEXT is an open standard developed by Olimex providing 3 Volt I2C, SPI, and USART signals on one connector. This board uses only the UART Tx and Rx signals. A 10-pin ribbon cable is used to connect to UEXT connectors on microcontroller boards.
The UX-232M provides a DTE RS-232 serial port with a DB9 female connector. Drivers are provided for the Tx and Rx lines with the other port lines unconnected. All thru-hole construction allows for easy assembly, maintenance, and modification. A DIP IC socket can be used to allow easy IC replacement to use different voltage/feature parts or to replace damaged parts.
A power LED provides a visual indication of power status. It can be used with RS-232 converter ICs using the MAX3232 16-pin DIP pinout. The Exar SP3232ECP-L is recommended for 3V operation, and it also provides ESD protection.