PCB-CB-485
ComBoard Adapter RS-485, Unpopulated 2 Sided PCB
Features:
RS-485 to logic level adapter with 4-pin terminal block or RJ45 connector options.
ComBoard standard pinout for interchangeable serial interface modules - 1x10 or 2x5 header options available.
All thru-hole construction allows for easy assembly.
A DIP IC socket option allows easy IC replacement.
Double-sided, FR4 glass-epoxy PCB, 1oz/ft2 copper, anti-tarnish coating. Soldermask & silkscreen. Lead free and RoHS compatible.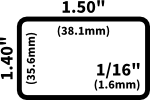 Description:
The PCB-CB485 is a bare PCB to build the CB485 logic-level to RS-485 adapter. This is an unpopulated board and no parts are included. The BOM (bill of materials) and schematic diagram are available below to construct the circuit. Soldering is required and prior experience with electronic assembly is recommended. A PCB soldermask helps prevent solder bridges on tracks and a silkscreen legend provides part locations. All thru-hole construction allows for easy assembly, maintenance, and modification.
The CB485 uses the ComBoard standard for interchangeable serial interface modules. Various build options are possible including 4-wire serial, 1x10-pin female ComBoard header, or a 2x5-pin shrouded header for use with ribbon cables. With the 1x10 male header option, the CB485 can be used with solderless breadboards. The 0.1" spacing of parts and mounting holes allow it to be soldered onto prototyping boards. It can be plugged into microcontroller dev boards with ComBoard serial port headers allow the serial port type to be easily changed.
The CB485 provides an RS-485 interface for microcontroller projects. The RS485 chip converts CMOS level transmit (Tx) and receive (Rx) lines to differential RS485 voltages than can be sent over long distances. RS485 allows multi-drop connects to create device networks with many devices talking to each other. The ComBoard RTS input line controls the driver enable line so the device only talks when it is its turn.
The CB485 can be used with a wide number of RS-485 converter ICs using the common MAX483 and MAX485 half-duplex 8-pin DIP pinout. A DIP IC socket can be used to allow easy IC replacement to use different speed/feature parts or to replace damaged parts. Drivers with this pinout are available from Texas Instruments, Analog Devices, Linear Technologies, Exar, Maxim and others.
Either a 4 position terminal block (5mm pitch) or RJ45 connectors can be fitted for the RS-485 connectors. This allows either twisted pair cables to be used with terminal blocks, or Ethernet Cat5e or Cat6e cable to be used with RJ45 jacks. Build with 1x10 male header for use with solderless breadboards.