PCB-CB-232F
ComBoard Adapter RS-232 DB-9F (DCE), Unpopulated 2 Sided PCB
Features:
RS-232 to logic level adapter with DB9F connector (DCE style) and power LED.
ComBoard standard pinout for interchangeable serial interface modules. 1x10 or 2x5 header options available.
All thru-hole construction allows for easy assembly. A DIP IC socket option allows easy IC replacement.
Double-sided, FR4 glass-epoxy PCB, 1oz/ft2 copper, anti-tarnish coating. Soldermask & silkscreen. Lead free and RoHS compatible.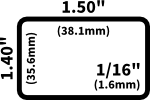 Description:
The PCB-CB232F is a bare PCB to build the CB232F logic-level to RS-232 adapter. This is an unpopulated board and no parts are included. The BOM (bill of materials) and schematic diagram are available below to construct the circuit. Soldering is required and prior experience with electronic assembly is recommended. A PCB soldermask helps prevent solder bridges on tracks and a silkscreen legend provides part locations.
The CB232F provides a DCE RS-232 serial port with a DB9 female connector. Drivers are provided for the Tx, Rx, RTS, and CTS lines with the other port lines unconnected. All thru-hole construction allows for easy assembly, maintenance, and modification. A DIP IC socket can be used to allow easy IC replacement to use different voltage/feature parts or to replace damaged parts.
The CB232F uses the ComBoard standard for interchangeable serial interface modules. Various build options are possible including 4-wire serial, 1x10-pin female ComBoard header, or a 2x5-pin shrouded header for use with ribbon cables. With the 1x10 male header option, the CB232x can be used with solderless breadboards. The 0.1" spacing of parts and mounting holes allow it to be soldered onto prototyping boards. It can be plugged into microcontroller dev boards with ComBoard serial port headers allow the serial port type to be easily changed.
A power LED provides a visual indication of power status. It can be used with RS-232 converter ICs using the MAX202 or MAX3232 16-pin DIP pinout. The Exar SP3232ECP-L is recommended for 3V or 5V operation and ESD protection.